Barney and his friends first aired on TV in the early 1990's and is a well known and loved character the world over.  Barney is the main character although other characters were added over the years including Baby Bop and BJ. Putting a Barney DVD on has given many a busy parent half an hour to get some chores done knowing their child is safe and happily watching their favourite purple dinosaur friend.
The Barney party theme is fun and colourful.
Colours:
Purple and Green which is nice for the older children or the softer Lilac and Lime version for the smaller kids.
Tableware:
Themed paper plates, paper cups, serviettes, party bags and plastic table covers are available, Buy now.
Linen:
A combination of green and purple, either green table cloths and purple tie backs or vice versa. White chair covers breaks the colour and highlights the tie back colour nicely.
Décor:
Balloons: Forest Green and Violet purple balloons with the Barney SuperShape or round foil balloons.
Entertainment:
A Barney character.
A bubble pool or soft play set up for the younger children and
Face painter, balloon sculptor, magic show, bubble machine for the older children. (Stick to 1 or 2 entertainment options).
Fun Foods:
Remember your theme colours when choosing sweets and foods.
Green Apples, Purple Grapes, Green juices.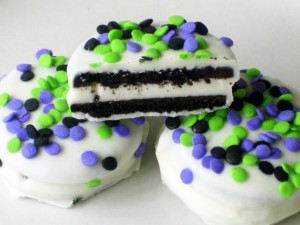 Green and purple jellies.
Popcorn machine – "Popcorn it's really neat, fun to make & fun to eat" 
** Visit our pinterest board for more ideas for your Barney party
** Download your party planning list here.
Leave us a comment if you found this useful! We wish you a Super-Dee-Duper barney birthday party.