So the date is booked, you have decided on your venue, now to purchase and plan the party itself. What exactly do you need for your little guests table settings?
There are a few considerations when deciding which party supplies to get for your tables.
1. Age of children.
Babies and very young children will not require cups to drink out of. Also think about purchasing the smaller 7″ plates for this age group, easier for little hands to manipulate than a bigger plate.
2. Theme of the party.
The normal table set up includes a table (jolly for the younger kids) and a chair as the very basics. But what if you are wanting something a bit different, like a picnic or beanbag bohemia? Decide what and where (or if at all) your guests will be seated.
3. Type of food being served. 
The traditional party spread of treats fits perfectly well on a normal plate. However if you intend on serving something softer, example ice-cream, a bowl or "treat tub" is a more practical option. Treat tubs also work well for younger children as they tend to spill and mess less with tubs as compared to normal plates.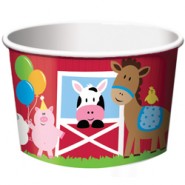 At the very least you need to plan and budget for the following items for each guest,
Plate
Cup
Party bag or Party box
A chair / blanket / bench i.e.: somewhere to sit and eat.
Optional extras:
Balloon for each child (use a balloon stick, no chance of balloons flying away)
Bubbles or Toy for each guest.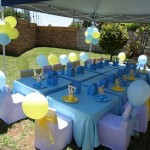 Stick to your budget. hire out tables, chairs and linen, it is the more cost effective option and less hassle overall. Visit Hassle Free Kids Party, our preferred hire supplier (Johannesburg only) and request your quote online.
Happy planning