Whether planning a baby shower or sprinkle, there are a number of aspects of your event that need to be planned ahead. In this post we will touch on what type of food and drinks you could serve at the event. It is of course dependent on what theme you choose, if you for example choose a BaByQ theme – the food may be more braai / salads than finger foods.
Is it okay to serve alcohol at a baby shower? 
This is a question that we believe best be presented to the guest of honour, does she mind having alcohol served at her shower or would she prefer it be a mocktail event. Most baby showers take place in the morning or over the course of an early afternoon, not really traditional drinking hours, so perhaps the addition of a fruit punch or mimosa's would suffice.
Mocktails / Preggatinis! Or non-alcoholic cocktails -> Here's a link to 50 easy Mocktail recipe's
Food, om nom nom:
Cake and finger foods are often served at Baby Showers. There are a few types of foods that pregnant women are advised to stay away from, these include:
– Sushi (uncooked seafood)
– Raw egg or anything containing raw egg such as hollandaise sauce.
– Soft cheese such as Brie and Camembert, all soft cheese that is made from pasteurised milk are safe.
– Pate.
Here are a few pictures from our Baby Shower Pinterest Board illustrating some food ideas and inspiration.
Tableware:
A number of baby shower themes are available on www.mypartysupplies.co.za – our favourites are
For a Girl: 
Baby Minnie, see our blog post on planning a Baby Minnie themed party here.
Little ladybug, see our blog post on planning a Little Ladybug themed party here.
For  a Boy: 
Baby Mickey, see our blog post on planning a Baby Mickey themed party here,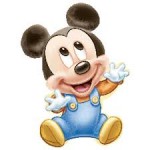 Gender Neutral:
Baby Clothes theme or Tatty Teddy.
Stay tuned for our next installment in the Baby Shower series: Games!
Happy Planning