This really is one of our favourite 1st birthday party themes. A lovely theme for a garden setting, where the vibrant colours will stand out against the greenery. There are a few different ladybug tableware themes available, we chose ours because we think its cute and not "too busy" and a plus is the smaller sized plates. With a diameter of only 17.5cm, it is perfect for the smaller tables and little guests portions.
Colours:
Red, black, white and green.
The green can be used to add a bit of variety in terms of colour or to "soften" the black and red combination.
Tableware:
We have paper plates, paper cups, serviettes and ladybug blowouts available in our store. Buy Now
Linen:
Red or white tablecloths with alternating red, black and green tie-backs. You could use all three colour or just a combination of two of the three. It is all up to you and what you believe will work best with your decor. The chair covers from Hassle Free Kids Party Hire are white, we think it breaks the colour nicely.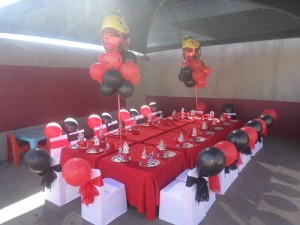 Decor:
Balloons: Red, white, black and green latex balloons are available. Buy Now.
Foil balloons for effect, these require helium to inflate, but once inflated they last weeks.
Entertainment:
First birthday's are relaxed affairs with so many smaller children present. If you have some time and some cardboard you could make a "pin the dot on the ladybug" party game.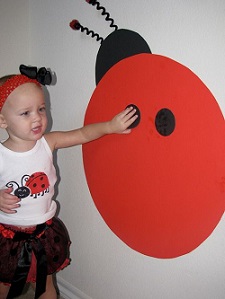 A nice garden setting works well with a ball pool. Fun and safe for little ones.
Babies love bubbles and a bubble machine fascinates them.
A face painter would also work well with toddlers.    Enquire now
Fun Food!
Party food is a fun affair but when hosting a 1st birthday with the view of having a number of younger children in attendance, the type of food you serve needs some thought. Soft and easy to eat is best, like jelly, ice cream, pudding, soft fruits. Hard boiled sweets pose a choking risk and are best avoided.
Cupcakes and smash cake work well with smaller children, (the smash cake for the birthday child). The following images and ideas have been sourced from Pinterest and can be found on our Pinterest board. Some really cute ideas.
Happy planning from the