There is no way around it, Disney babies are just super adorable. Fans of Disney who are looking for a theme suitable to a 1st birthday or name day celebration will appreciate the soft tones and pastels of this range.
Colours:
Pastel Blue, Pastel Yellow and White.
Pastel Blue, Pastel Green and White.
Tableware:
Themed paper plates, paper cups , serviettes and table covers are available. Buy Now
Linen:
Choose your main colour and alternate your tiebacks. You could alternate blue and yellow tiebacks or blue and green tiebacks. Something like this: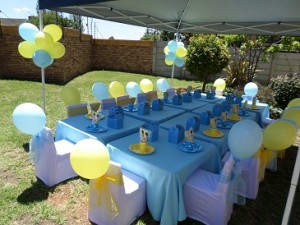 Décor:
Balloons: 12inch latex balloon in the theme colours.
Foil SuperShapes available.


Remember to colour co-ordinate your party buckets/packs.
Entertainment:
First birthday's are relaxed affairs with so many smaller children present.
A ball pool is a winner with the little ones.
Babies love bubbles and a bubble machine fascinates them.
A face painter would also work well with toddlers.
Food:
Cupcakes and smash cake work well with smaller children, (the smash cake for the birthday child). The following images and ideas have been sourced from Pinterest, click each image to take you to the Pinterest board. Great ideas.
Easy to eat finger foods suitable to a younger palate works best. Examples would be:
Finger biscuits,
Yoghurts,
Frozen banana treats etc.
Visit our Pinterest board to get more ideas to use at your Baby Mickey party.
Have fun planning your Baby Mickey Birthday party.